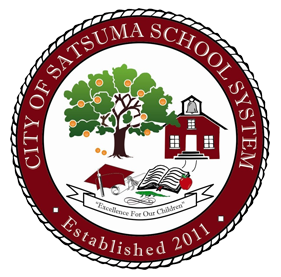 Satsuma Board of Education Office Hours
Monday-Friday 7 AM to 4 PM
Notices:
T

he Satsuma Board of Education regularly scheduled board meeting is August 23, 2016 with a pre-meeting at 5:00 PM and the regular meeting at 6:00 PM. The meeting will be held at the Robert E. Lee Elementary Annex Cafeteria/Auditorium.
The Satsuma Board of Education will hold the first public budget hearing for the FY 2016-2017 budget, including Federal Funds, on Tuesday, August 23rdduring the regular board meeting which begins at 6:00 PM. The 2nd budget hearing will be held in a special called meeting on September 6th at 5:30 PM. The public budget hearings will be held in the Robert E. Lee Annex Cafeteria located at 220 Baker Road Satsuma, AL 36572.
The Satsuma City School System is in need of Substitutes for the school cafeterias. Anyone wishing to apply, please come by the Central Office for an application or feel free to call us at

251-380-8200

.
DID YOU KNOW?
Check out the buttons on the top right!

The e~Funds for Schools button allows you to prepay for your child's breakfast and lunch.
The PayPal button allows you to make donations to our new Athletic Complex, pay your before and afterschool care, pay for various fundraising activities, and pay tuition.
For more information about the Athletic Complex project, please click on the Community button above or simply click

here

.
Board of Education meeting agendas and minutes.
Applications for substitutes.
2016-2017 School Calendar.
Dr. Walters State of the Schools presentation can be found here.